ASPIRE Awards Badges
At Sir Harry Smith Community College, we are committed to providing a richly diverse learning experience that enables all learners to develop personally and make outstanding academic progress throughout their time with us. This is underpinned by our school ethos of Ambition and Aspiration for All.
Our ASPIRE Awards Badges programme is a brand new whole school initiative which affords all learners the opportunity to be recognised and rewarded for their achievements across the curriculum in school, and for their achievements outside of school, such as within their local community. The ASPIRE Awards Badges programme provides opportunities that students would otherwise not have to develop self-confidence, skills for life, leadership, and cultural capital in the 21st Century.
Our extra-curricular provision supports the ASPIRE Awards Badges programme, and attendance at these clubs will provide evidence towards many of the Badges. Click here to read more about our extra-curricular provision.
Our school ethos (Ambition and Aspiration for All) and values (Pursuit of Excellence; Valuing People; Achievement; High Quality Learning Experience; Extending the Boundaries of Learning; British Values) are at the heart of the programme.
All students are automatically enrolled onto the programme as part of their transition from Primary into Secondary and are supported to achieve their Badges throughout their time with us.
There are 6 strands within the programme:
Achievement
Service
Participation
Inclusive
Responsibility
Environment
The programme has three tiers of challenge:
Bronze: to take part in
Silver: To help organise
Gold: To lead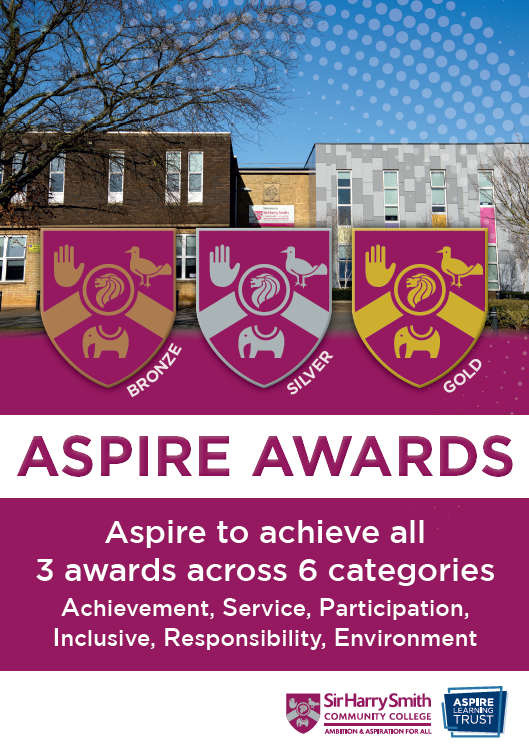 We support students to achieve at least their Bronze Badge by the end of KS3 (Yr9), and Silver/Gold by the end of KS4.
We celebrate student success in our termly Celebration assemblies, where students receive their Badge, Certificate, and an invitation to a special event with other students and staff.
Parents/carers/families can support their children with progress towards their ASPIRE Awards Badges by encouraging their child to participate in the wide range of extra-curricular provision we have on offer, but also by updating their child's form tutor on notable achievements/accomplishments they are proud of from outside of school and the form tutor can update the child's record of achievement which is kept at school. You will be notified of progress made during each reporting cycle.
We are very much looking forward to working with you to recognise, reward, and celebrate your child's success and achievements through our ASPIRE Awards Badges.