COURSE OVERVIEW
The course contains three mandatary units:
1. Children's Development - Learners will develop an understanding of children's developmental progress from birth up to seven years 11 months
2. Development of Children's Communication, Literacy and Numeracy Skills - Learners will develop an understanding of how children develop literacy, language, numeracy and communication skills and how to promote and support this development
3. Play and Learning - Learners study the benefits of play, the influence of theories and approaches to play and how to provide and support purposeful play and learning activities for children.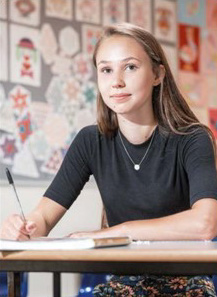 It also has four optional units, from which one will be selected for students to study. These are: 1. Keeping Children Safe
Children's Physical Development, Care and Health Needs
Working with Parents and Others in Early Years
The Early Years Foundation Stage
Unit 1 and Unit 2 are both externally assessed. Unit 3 and the chosen optional unit are internally assessed. The course also requires students to spend at least 50 hours in a work placement with ch
ASSESSMENT
There are three main forms of assessment for this qualification: external, internal and synoptic. The styles of external assessment used for qualifications in the Children's Play, Learning and Development suite are:
Examinations - all learners take the same assessment at the same time, normally with a written outcome
Set tasks - learners take the assessment during a defined window and demonstrate understanding through completion of a vocational task.
The styles of internal assessment used include; writing up the findings of their own research, using case studies to explore complex or unfamiliar situations, carrying out projects for which they have choice over the direction and outcomes and demonstrating practical and technical skills using appropriate tools/processes etc.
Synoptic assessment requires learners to demonstrate they can identify and use effectively, in an integrated way, an appropriate selection of skills, techniques, concepts, theories and knowledge from across the whole sector. Synoptic units may be internally or externally assessed. WHERE
WHERE CAN IT LEAD?
This qualification is generally taken alongside other qualifications as part of a two-year programme of learning. It carries UCAS points and is recognised by higher education providers as contributing to the entry requirements for a wide range of degree programmes. It can for example be taken alongside A Levels for those wishing to complete degrees in: Paediatric Nursing, Childhood Studies and Primary Education. This qualification is primarily designed to support progression to employment via higher education; however this qualification will also be relevant for those who choose to progress directly to employment, through an Early Years Educator Apprenticeship.