Aims
Business Studies aims to provide the opportunity for experiential learning, exploring the world of business and its role in society, using the local community as a resource. Students learn to understand business activities, to select and sort out relevant information, to make decisions based on evidence, and to use 'business' methods of communication. This course aims to inspire and challenge students by following a broad and satisfying course of study.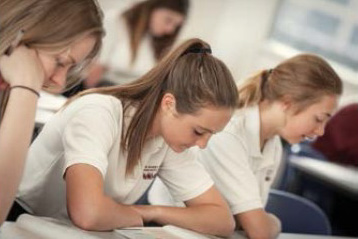 Years 10-11
Students who opt for Business Studies follow a GCSE course which comprises three units of study. The first two units of study will be completed in Year 10 and this will consist of a multiple choice exam (unit 1) and a controlled coursework assessment (unit 2). Controlled assessment means that students develop their coursework under exam style conditions and will be given a limited timeframe to complete it.
Unit 1 and Unit 2 cover the same content but are assessed in different ways. The content of these units includes spotting a business opportunity, showing enterprise, putting a business idea into practice, effective start-up and economic context. Unit 1 concentrates on the key issues and skills involved within these topics and then unit 2 allows students to analyse and evaluate what they have learnt.
In Year 11 students undertake the final unit of study which is Unit 3 – 'Building a Business'. This unit encourages students to understand what happens beyond start-up and how to build a business. It includes the following main topics: marketing, meeting customer needs, effective financial management, effective people management and the wider world affecting business. This is an externally assessed unit in the form of a written exam.
The GCSE grade will be determined by the results of all three units and these make up the total GCSE as follows: Unit 1 - multiple choice exam (25%), Unit 2 - controlled coursework assessment (25%) and Unit 3 - written exam (50%).
Sixth Form
AS and A2 Business Studies is offered in the Sixth Form. The AS course consists of two units which are both externally set exams based on a pre-release case study. The A2 course also has two units which is 100% exam and is based on what has been learnt at AS, plus new concepts and theories. Topics covered include a wide variety of business theory, such as entrepreneurship, business environment and globalisation.
Additional Information
There is no requirement at GCSE for students to have studied Business Studies in the previous Key Stage. However, candidates need to have developed competence in literacy and numeracy to enable them to undertake the subject successfully.
Business Studies offers numerous opportunities for progression at Post 16 and into Higher Education, with academic and vocational options available as well as allowing students to gain valuable insights into the working environment.