COURSE OVERVIEW
This course is equivalent in size to 1 A Level and provides students with a broad basis of study for the sports sector.
The course contains three mandatary units:
Unit 1 - Anatomy and Physiology (Exam)
Unit 2 - Fitness Training and Programming for Health, Sport and Wellbeing (Synoptic)
Unit 3 - Professional development in the sports industry (Internal)
Plus one optional unit:
• Unit 4 - Sports Leadership (Internal)
*Please note the optional units are subject to change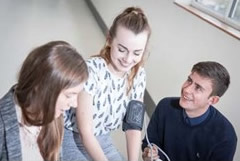 ASSESSMENT
The three main forms of assessment for this qualification are external, internal and synoptic.
The styles of external assessment used for qualifications in Sport are:
External via examinations - all learners take the same assessment at the same time via a written exam which lasts 1 hour 30 mins
Internally - learners take the assessment during a defined window and demonstrate understanding through completion of a vocational task that is written up and assessed by staff in school and then
verified
Synoptic – A written task with pre-released information to be completed within 2 hours and 30 minutes supervised assessment time
During internal assessments learners could be given opportunities to:
Write up the findings of their own research
Use case studies to explore complex or unfamiliar situations
Carry out projects for which they have choice over the direction and outcomes
Demonstrate practical and technical skills
Learners will carry out synoptic assessments where they will be required to demonstrate that they can identify and use effectively, in an integrated way, an appropriate selection of skills, techniques, concepts, theories and knowledge from across the whole sector as relevant to a key task.
WHERE CAN IT LEAD?
This qualification is aimed at learners looking to progress to employment in Sports Performance and/ or Coaching and whose aspirations would also be supported by taking complementary qualifications alongside. It is also suitable for those wishing to complete a range of degrees including: Sport and Exercise Science, Sports Education, Sport Psychology or Sport and Business.