COURSE OVERVIEW
A Level Chemistry goes into much more detail than GCSE. It attempts to answer the question 'What is the world made of?' And it's the search for this answer that makes this subject so fascinating. From investigating how one substance can be changed drastically into another, to researching a new wonder drug to save millions of lives, the opportunities that Chemistry provides are endless.
The Chemistry A Level course is split in to 3 distinct areas of Chemistry; Physical, Organic and Inorganic. Students will learn about the main concepts, ideas and applications in each of these areas, they will also carry out practical investigations for each area. These investigations include:
Measuring energy changes in chemical reactions
Tests for identifying different types of compound
Different methods for measuring rates of reaction
Studying electrochemical cells
Preparation of organic solids and liquids
Analytical techniques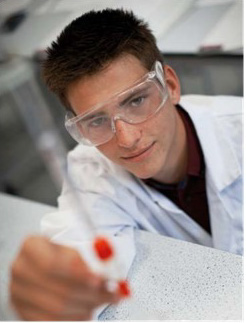 ASSESSMENT
The A Level Chemistry course will be assessed through three terminal exams (at the end of Year 13):
Paper 1 - Physical Chemistry/Inorganic Chemistry
Written Exam (2 hours) Short and long answer questions.
Paper 2 - Physical Chemistry/Organic Chemistry
Written Exam (2 hours) Short and long answer questions.
Paper 3 - Any Content /Any Practical Skills
Written Exam (2 hours) A mixture of questions on practical techniques, data analysis and synoptic multiple choice and long answer questions.
WHERE CAN IT LEAD
Studying Chemistry at A Level and beyond gives all sorts of exciting career options, including: Analytical Chemist, Chemical Engineer, Clinical Biochemist, Pharmacologist, Doctor, Research Scientist, Toxicologist, Chartered Certified Accountant, Environmental Consultant, Higher Education Lecturer, Patent Attorney, Science Writer, and Secondary School Teacher.