COURSE OVERVIEW
The EPQ requires students to carry out research on a topic that they have chosen that is not covered by their other qualifications. They then use this research to produce a written report and, in the case of practical projects, an artefact or a production. A student can take inspiration from something studied in class or something completely unrelated to their studies.
During the EPQ the learner will:
Identify, design, plan and complete an individual project, applying a range of organisational skills and strategies to meet agreed objectives
Obtain, critically select and use select information from a range of sources; analyse data, apply it relevantly and demonstrate understanding of any appropriate linkages, connections and complexities of the topic
Select and use a range of skills, including new technologies where appropriate, solve problems, take decisions critically, creatively and flexibly, to achieve planned outcomes
Evaluate outcomes both in relation to agreed objectives and own learning and performance. Select and use a range of communication skills and media to present evidenced outcomes and conclusions in appropriate format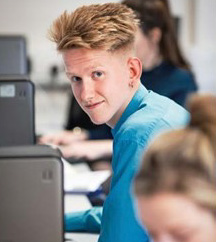 Assessment
The evidence for assessment will comprise the following:
The completed Production Log and Assessment Record including the Project Proposal Form, Presentation Record and Candidate Record Form
The project product including a written report and any other evidence as appropriate, depending on the topic or subject area
The EPQ is assessed by the course leader within the school, there is no examined component.
WHERE CAN IT LEAD?
The EPQ is the perfect way to encourage students to extend and develop beyond the material being covered in class and explore their passion for a topic.
The EPQ allows students to embark on largely self-directed projects. By taking responsibility for the choice and design of an individual project (or an individual role in a group project) students:
Become more critical, reflective and independent learners
Develop and apply decision-making and problem solving skills
Increase their planning, research, analysis, synthesis, evaluation and presentation skills
Learn to apply new technologies confidently
Demonstrate creativity, initiative and enterprise
Universities recognise the importance of the skills developed during the EPQ and for this reason the EPQ is very well respected by universities. Some universities lower their offers for students that have completed the EPQ. The EPQ also carries UCAS points equivalent to half an A Level.