Aims
The Geography department aims to give students a better understanding of the world around them. Students are encouraged to take a strong sense of responsibility for their own actions, towards themselves, others and the environment. There are three main aims; to develop geographical knowledge and understanding; to introduce students to geographical enquiry; to help students develop a sense of identity and place through a range of scales from local to global.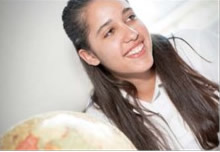 Years 7-9
All students at Key Stage 3 study Geography. Topics are designed to cover aspects of physical and human geography and contemporary issues in today's world.
In Year 7 students look primarily at their own locality and compare it with the rest of the UK and with Africa. In Year 8, students look further afield, to India and China, while Year 9 begin to consider their role as global citizens.
Students experience a variety of learning experiences; discussion, role play, group presentation, and use ICT and Geographical Information Systems (GIS) as part of their enquiry-based learning. There are opportunities for fieldwork investigations, covering a range of geographical skills and locations.
Years 10 and 11
The Edexcel GCSE specification A in Geography is currently followed. It comprises four units, each accounting for 25% of the overall GCSE.
Geographical Skills and Challenges - This unit covers the geographical skills that are essential for all students GCSE Geography. The skills covered are cartographic, graphical and graphical enquiry, ICT and GIS skills. The unit also covers the major challenges to our planet that we are currently facing: climate change and sustainability.
The Natural Environment - This unit covers the physical geography aspects of the natural world and issues related to the environment we live in. Students will study; Coastal, River and Tectonic Landscapes; A Wasteful World.
The Human Environment - This unit covers the human geography aspects of the human world and issues related to the people living on our planet. Students will study; Settlement, Economic and Population Change.
Investigating Geography - This unit is a controlled assessment unit (internal assessment). Students complete one of the fieldwork tasks from the list provided by Edexcel, which will be marked by teachers and moderated by Edexcel.
Sixth Form
At AS Level there are two units - 'Global Challenges' and 'Geographical Investigations'.
Global Challenges looks at the meaning, causes, impacts and management of global challenges, such as natural hazards and climate change, and how we can influence global challenges through our own lives. The compulsory topics that form this unit are World at Risk and Going Global.
Geographical Investigations is a closer look at how physical and human issues influence lives and can be managed. A residential fieldtrip forms part of this unit, and in the past this has been a visit to Dorset's Jurassic Coast. Students study two topics.
Crowded Coasts reveals how increasing development is testing
Crowded Coasts reveals how increasing development is testing our ability to manage these valued environments; Unequal Spaces explores the causes and consequences of rural and urban disparities and how to manage them.
At A2 Level, the two units are:
Contested Planet - looking at how the use and management of resources is a key issue for geography in today's world. There are six compulsory topics within this unit - Energy Security; Water Conflicts; Biodiversity Under Threat; Superpower Geographies; Bridging the Development Gap; The Technological Fix?
Geographical Research - Students conduct their own research. Field work is included in this unit.