Aims
Through studying History, students will gain a deeper understanding of the world they live in. By learning skills such as the ability to think critically about a source and produce a well-reasoned argument, students not only learn to think like a historian but also learn skills that are valuable for their academic progress.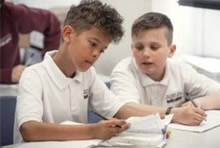 Years 7 - 9
The Key Stage 3 History curriculum aims to give students a solid foundation in the history of Britain and of the wider world. We also aim to build key historical skills such as the critical use of evidence.
Below is a brief summary of what students can expect to learn in Years 7-9.
Year 7:
How should we remember the workhouse?
How has migration changed England 500BC-Present?
Who was more powerful in the Middle Ages – the Church or the Crown?
Why was the Black Death so significant?
Year 8:
What caused the English Reformation, and why was it so significant?
What caused the English Civil Wars?
Who were the Plains Indians?
How should we remember the British Empire?
Why couldn't the police catch 'Jack the Ripper'?
Year 9:
What caused the First World War?
Could the Second World War have been avoided?
Why did the Holocaust happen?
What was the Cold War?
How should we remember Sir Harry Smith?
Years 10 - 11
Students who opt for History will follow the Edexcel GCSE specification.
Medicine in Britain, 1250-present
The British sector of the Western Front, 1914-1918: surgery and treatment
Anglo-Saxon and Norman England, c1060-88
The American West, c1835-1876
The USA, 1954-75: conflict at home and abroad
Students will be assessed through 3 exams which take place at the end of Year 11.
Sixth Form
At A-level, students follow the OCR specification.
Unit 1 – The Early Stuarts and the Origins of the Civil War 1603-1660
Unit 2 – Russia 1894-1941
Unit 3 – Popular Culture and the Witchcraze of the 16th and 17th centuries
Unit 4 – Free choice of coursework on a topic that interests students (subject to teacher approval)
Additional Information
The History department tries to enrich historical understanding by running trips. Trips completed in the past include:
The Somme area, France
Norwich castle