Aims
Through studying History, students will gain a deeper understanding of the world they live in by looking at topics such as the Norman Conquest, the emergence of Parliament, and the causes of other key events such as the Crusades, the Black Death and the devastating wars of the twentieth century. By learning skills such as the ability to think critically about a source and produce a well-reasoned argument, students not only learn to think like a historian but also learn skills that are valuable for their academic progress.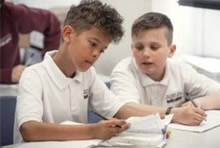 Years 7 - 9
In Year 7, students follow three main themes:
Daily lives
Conflict and co-operation
An in-depth study on the Crusades
In Year 8, students study:
Hearts and minds
Challenges to Power
The British Empire and slavery
In Year 9, students study:
An in-depth study on the Western Front in the First World War
Era of the Second World War
Case study of President Kennedy
Hearts and Minds
Impact of War
A New Terrorism
A variety of approaches to teaching and learning can be experienced to make history engaging with use of traditional texts to up to date video and ICT materials.
Years 10 - 11
Medicine in Britain, 1250-present
The British sector of the Western Front, 1914-1918:surgery and treatment
Anglo-Saxon and Norman England, c1060-88
The American West, c1835-1876
The USA, 1954-75: conflict at home and abroad
Students on the old course, i.e those who will be in Year 11 in the 2016-2017 academic year, will continue to study the previous syllabus. Please note: this syllabus will be obsolete after the completion of the above academic year.
Causes and events of the Great War 1914-18
International Relations 1919 - 1939
Likewise, students develop their source evaluation skills by looking at events in Britain from 1939-1975, including immigration, the role of women and life as a teenager in the 1960s. An enquiry is also completed on the USA, 1919-1941
Sixth Form
Students follow the following modules for A level:
Britain transformed 1918 – 1997
USA 1955 – 1992
The British experience of warfare 1790 – 1918
Coursework on a topic that interests students
Additional Information
The History department tries to enrich historical understanding by running trips. Trips completed in the past include:
The Somme area, France
Ypres in Belgium