Life Saving Escape from Blazing Building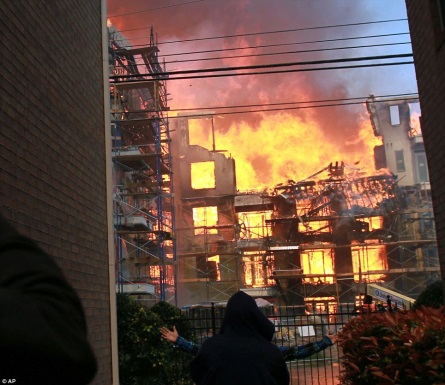 Yesterday, in Houston, Texas a thirty million dollar construction site set on fire. The heat of the flames was felt all over the village and the flames and smoke spread extremely quickly. A construction worker was on the top storey of the wooden framed construction and jumped down several feet to a safer balcony. He swung from the ledge as the fireman on the engine ladder had to lower himself down to reach the man, risking his life. The worker made a lucky escape but risked his life once again as he reached to jump onto the platform of the ladder. A few seconds later, the roof collapsed and falling ashes, embers and rubble came crashing down narrowly missing the two men. Eyewitnesses caught his heroic moves on camera with the several people in the background shouting and screaming in shock.
Ninety other construction workers escaped uninjured, but this particular worker had to jump to save his life. The Houston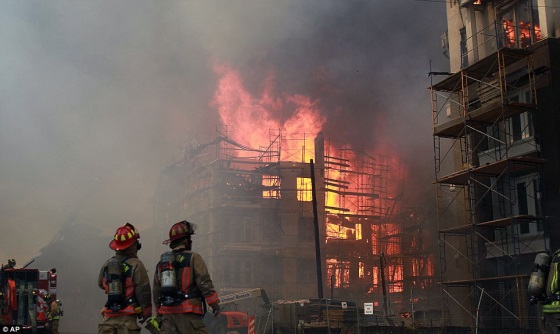 firemen said that the fire spread by the strong winds in Texas. After the construction worker had a lucky escape, it took 200 fire-fighters more than two hours to put out. The fire was said to have started by a small welding fire that destroyed an unfinished construction of the apartment.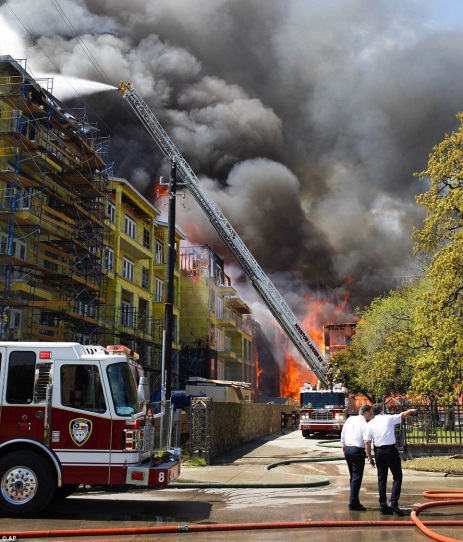 The construction worker tried to run forward to keep away from the forward spreading of the flames, but quickly realised that he had to jump to save his life. The winds at the time got up to twenty miles per hour making it more risky and even luckier for the man.
Reporters: Megan, Molly, Isobel & Megan