Aims
The Physical Education department believes in furthering the all round education of each child, both as an individual and as a member of a group. Students' interest, skill and enjoyment are stimulated, whilst they develop an understanding of the need for a healthy lifestyle both in terms of physical activity and the application of the principles of safety. Students are encouraged to learn in a fun atmosphere and we encourage them to develop their sporting skills both during lessons and by participating in a broad extra-curricular programme. In addition to this, all students have the opportunity to compete in our inter-form programme which spans across Key Stages 3 and 4.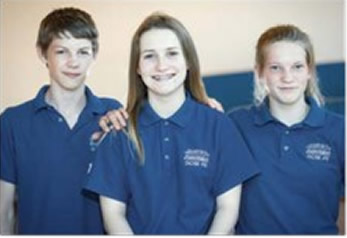 The Physical Education department believe that this varied programme of activities throughout the Key Stages encourages a positive attitude to sport, health and fitness further into life.
Years 7 - 9
In Year 7 students are taught in form groups and in Year 8 and 9 they are put in ability sets. In Years 7-8, students receive three lessons of PE over two weeks, each lasting one hour. Students are taught in both mixed and single sex groupings.
Across the key stage students are taught a range of activities including net/wall, striking and fielding, outwitting opponents, sport related fitness, dance, trampolining and gymnastics. In Year 9 students receive one hour of PE a week, which consists of a variety of activities following on from Year 8.
Years 10 - 11
In Years 10 and 11, students continue to develop their knowledge and understanding of some of the areas studied in Years 7-9 and are introduced to some new activities. Everyone receives one lesson a week of "Core PE" with the exception of those students in Year 10 and 11 who study triple Science. Here, students' interests are taken into account with an option choice system in some of the activities. Students are encouraged to develop their organisational and leadership skills and extend their knowledge of the rules and tactics through participation, coaching and umpiring.
GCSE Physical Education
In addition, in Year 10 students can opt to follow the full course GCSE Physical Education syllabus. This is both a practical (48% allocated to four practical sports, 12% allocated to Analysis of Performance) and theoretical (40%) course. Here, students are taught to develop their sporting skills and tactics through a variety of activities and link this practical knowledge with the theoretical aspects of anatomy and physiology, health, hygiene and fitness and sports safety and prevention of injury. This is a two year course that is examined in Year 11.
Sixth Form
Students in Year 12 can opt to take the certificated BTEC Level 3 Diploma in Sport. This is five lessons each week and is a two year course which is mainly theory with some practical elements and is assessed by coursework modules. It is equivalent to one A level. GCSE PE would assist this course, but it is not essential.
PE Uniform
Students need to have the following kit. They should bring this to all lessons.
GIRLS' PE KIT

BOYS' PE KIT

ESSENTIAL
OPTIONAL
ESSENTIAL
OPTIONAL
Maroon polo shirt (with school badge)
Black PE jumper (with school badge)
Maroon polo shirt (with school badge)
Maroon rugby jumper
Plain black shorts/skort
Plain black sports leggings
Plain black shorts
Plain black tracksuit trousers (if outside during the winter)
Maroon, long sports socks
Football or rugby boots
Maroon, long sports socks
Football or rugby boots
Sports trainers
Sports trainers