Aims
The Physical Education department believes in furthering the all- round education of each child, both as an individual and as a member of a team. Students' interest, skill and enjoyment are stimulated, whilst they develop an understanding of the need for a healthy lifestyle both in terms of physical activity and the application of the principles of safety. Students are encouraged to learn in a fun atmosphere and we encourage them to develop their sporting skills both during lessons and by participating in a broad extra-curricular programme. In addition to the practical skills taught we also focus on Me in PE which encourages students to consider their performance in Key areas of Physical Me, Healthy Me, Creative Me, Leading Me, Thinking Me and Competitive Me. This leads to a holistic approach to PE which also includes how to develop skills such as resilience, communication, self- management, innovation and more besides.
In addition to this, all students have the opportunity to compete in an inter-form programme which spans across Key Stages 3 and 4 throughout the year which covers a range of sports including Interform Cross country, Sports day, rounders, dodgeball, handball, football and netball.
The Physical Education department believe that this varied programme of activities throughout the Key Stages encourages a positive attitude to sport, health and fitness further into life.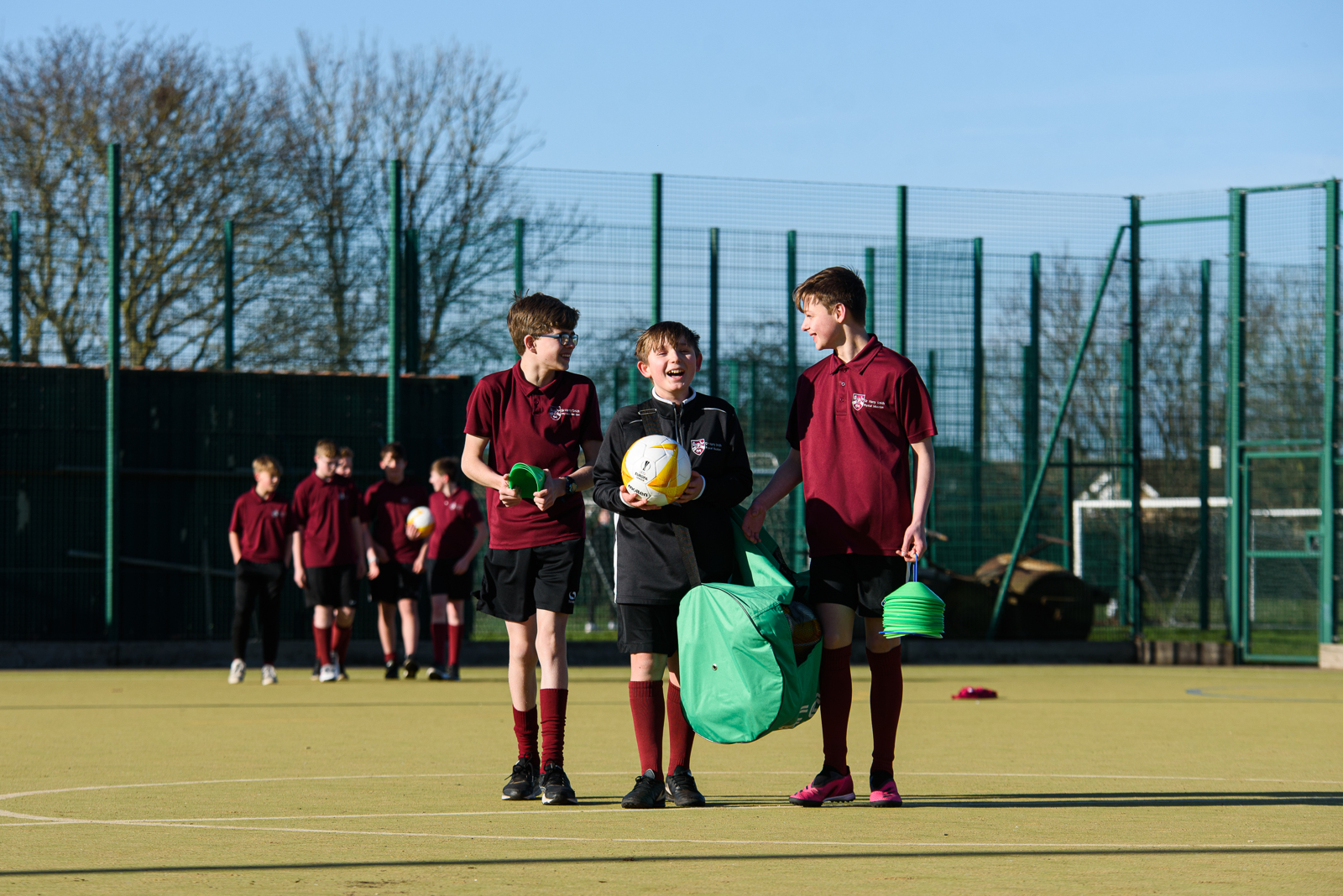 Enrichment Programme
Students throughout all years are encouraged to participate in our Extra curricular programme which runs both after college and during some lunchtimes. The sports on offer include the more traditional of netball, football, rounders and cricket through to dodgeball, trampolining and cross country. These sports may change depending upon the season and the suggestion of students via the Sports Council.
Students can attend this programme of extra- curricular activities purely for fun or can be considered to represent the college at sports fixtures against other schools in the area.
In addition to this students are also chosen to become Sports Leaders and represent the college in numerous Primary Sports Festivals that we host for our feeder primary schools and those in the Cambridgeshire catchment.
Years 7 - 9
In Year 7 students are taught in form groups. In Year 8 and 9 they may be put into sets. In Years 7-8, students receive four lessons of PE over two weeks, each lasting one hour. In year 9 students receive three lessons of PE over two weeks. Students may be taught in both mixed and single sex groupings.
Across the key stage students are taught a range of activities through the Me in PE curriculum which will include a variety of sports including net/wall, striking and fielding, outwitting opponents, sport related fitness, dance, trampolining and gymnastics.
Years 10 - 11
In Years 10 and 11, students receive one lesson a week of "Core PE". Students continue to develop their knowledge and understanding of some of the areas studied in Years 7-9 continuing to follow the Me in PE curriculum and cover some new activities. Students' interests are also taken into account with an option choice system over two half term blocks. Students are also encouraged to develop their organisational and leadership skills and extend their knowledge of the rules and tactics through participation, coaching and umpiring.
KS4 examination Physical Education
In addition, in Year 10, students can opt to follow the Cambridge National in sports Studies Level 2 syllabus. This is a two year course where students must complete three units.
One mandatory externally assessed unit (exam) on the contemporary issues in sport•
One mandatory centre-assessed unit (NEA) on performance and leadership in sports activities•
One optional centre-assessed unit (NEA) from a choice of two: Sports and the media or increasing awareness of outdoor and adventurous activities.
These units are taught through a mix of theory and practical based lessons. The practical based lessons will also have an element of theory in order to review their progress.
Students are expected to have an interest in PE to follow this course and it would benefit them if they had an active interest in sport by attending a sports club both inside and outside of college.
Sixth Form
Students in Year 12 can opt to take the certificated BTEC Nationals in Sport at Level 3. They can opt to take the Extended Certificate which is the equivalent of one A level and is taught over 2 years via five lessons each week. Or the Diploma which is the equivalent of 2 A levels. Students opting for the Diploma first cover the Extended certificate course and then cover the diploma course over an additional 5 lessons per week.
Examination PE at KS4 would assist this course, but it is not essential.
In addition, students can opt to take the Level 3 Qualification in Sports Leadership (SL3). This course carries 16 UCAS points and is taught through 5 lessons over 2 weeks.
This offers the opportunity for students to develop their leadership skills by leading sports events including our Primary festivals, interform activities and small groups of lower school students in PE lessons. It is both a practical and theory based course.
Our Sports Leaders also take the lead on running our Sports Council where students throughout college are invited to offer suggestions that will develop and enhance the PE department.
PE Uniform
Students need to have the following kit. They should bring this to all lessons.
GIRLS' PE KIT

BOYS' PE KIT

ESSENTIAL
OPTIONAL
ESSENTIAL
OPTIONAL
Maroon polo shirt (with school badge)
Black PE jumper (with school badge)
Maroon polo shirt (with school badge)
Maroon rugby jumper
Plain black shorts/skort
Plain black sports leggings
Plain black shorts
Plain black tracksuit trousers (if outside during the winter)
Maroon, long sports socks
Football or rugby boots
Maroon, long sports socks
Football or rugby boots
Sports trainers
Sports trainers