Aims
Through studying Religion, Philosophy and Ethics, students will gain a deeper understanding of the world they live in. Students learn critical thinking and analysis skills and reflect upon moral, religious and philosophical issues. Students will learn to produce a well-reasoned argument. Students will examine the culture and spiritual side of life and grow in their understanding of humanity.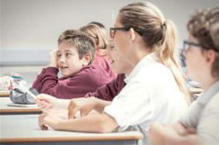 Years 7 - 9: Religious Studies
The Key Stage 3 Religious Studies curriculum aims to give students a solid foundation in the six major religions (Christianity, Judaism, Islam, Buddhism, Hinduism and Sikhism). In addition, they learn about Humanism, secular and atheist views. We also aim to build key religious studies skills such as textual criticism, debate and critical analysis.
Below is a summary of what students can expect to learn in Years 7-9.
Year 7:
Comparative Religion
Introduction to Judaism
Key Christian beliefs
Introduction to Islam
Introduction to Sikhism
What is Ethics?
Year 8:
History of Christianity
The early prophets in Judaism
Jewish practices
The Five Pillars of Islam
Hinduism: Reincarnation and Karma
Introduction to Philosophy
Year 9:
Understanding complex ethical dilemmas
War and Peace
Buddhist beliefs
Christianity in Britain
Humanism and secular Britain
Buddhist practices
Years 10 - 11: RPE
Students who opt for Religion, Philosophy and Ethics will follow the Eduqas GCSE specification.
Christian beliefs and practices
Muslim beliefs and practices
Ethics of Relationships
Ethics of Human Rights
Philosophy of Good and Evil
Philosophy of Life and Death
Students will be assessed through 3 exams which take place at the end of Year 11.
Sixth Form: Philosophy and Ethics
At A-level, students follow the OCR specification. The course comprises of three strands:
Philosophy
Ethics
Christian Philosophy
Students complete three 2 hour exams at the end of Year 13.