Aims
Religious Education provides an integral part of the students' cultural, moral and spiritual education and we aim to promote understanding and tolerance between peoples of different faith and those with no faith at all. Students are encouraged to reflect not only on what they have learnt about religion, but what they have learnt from religion. Religious Education is taught to all students at Sir Harry Smith Community College. All parts of the Religious Education course take a multi-faith approach, and the beliefs of all students are treated sensitively.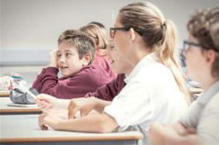 Years 7 - 9
The lower school course of Religious Education is based on the Cambridgeshire Agreed Syllabus and in line with this, students study the history, beliefs and practices of the six major world religions. Students are also offered the opportunity to reflect on important questions of human existence, such as, "how should I respond to suffering," and "what happens after death?" After each topic, students are given the opportunity to demonstrate what they have learnt by completing a common core assignment, which is then placed in the student's individual record of achievement.
Years 10 - 11
The OCR course in Philosophy and Applied Ethics is available as an option at GCSE. Students sit four exams at the end of Year 11 covering philosophical (Good and Evil, Revelation, Science) and ethical perspectives (Relationships, Medical Ethics, Poverty). Students not opting to do the subject at GCSE level will follow a course that covers many topics related to the full course GCSE.
Sixth Form
At present, Religious Education in the Sixth Form is delivered through the Sixth Form enrichment programme.
Additional Information
A wide variety of teaching methods are used to further students' enjoyment and involvement in lessons. These methods include the use of television broadcasts, films, IT projects, role-playing and experiential learning. Visits are also made to places of worship such as St Mary's Church in Whittlesey and Regent's Park Mosque in London. Parents have the right to withdraw their children from Religious Education lessons following a written request and a meeting with the Principal and Head of Religious Education.