2018 Results and Destinations of our Students
We are delighted with the results that our students have achieved this year. Overall, 36% of entries were awarded A*- B grades at A Level. Furthermore, 70% of entries were awarded A*-C grades and 97% were awarded A*-E grades. Once again, we have had a very successful year with our BTEC qualifications with 91% being awarded a Distinction*- Merit grade; equivalent in UCAS points to A*- B grades at A Level. Our excellent A Level and BTEC results compare very favourably with other local schools and colleges and demonstrate the real commitment and dedication of both our staff and our students.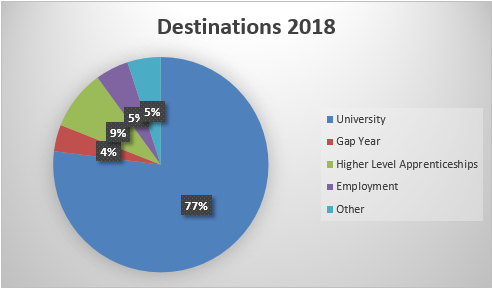 These achievements have opened many opportunities and career pathways for our students following their time at the college. 77% of our students have accepted offers to study at University. A key aspect of this success is the extensive support network that exists in the College, open to our students through the pastoral care system, made up of a team of specialised Sixth Form Advisors, Careers Advisors and a dedicated Sixth Form Teaching Staff. The College is committed and passionate about ensuring that every individual student receives specialised support and guidance throughout their time in the Sixth Form, to ensure they are fully prepared and informed of the many opportunities available to them when they leave. Whilst we encourage all students to consider University as an option we also have a very successful track record for supporting students to secure high quality apprenticeships and permanent positions in employment in this ever increasingly competitive job market.