School Direct Programme – Train to be a teacher with us.
Sir Harry Smith Community College was rated as a 'Good' school (Ofsted October 2018) and we are very proud to have the strengths of the school recognised in an official capacity. In terms of teacher training, we are very well equipped to deliver a high-quality provision alongside our PGCE provider, the University of Bedfordshire.
By applying to Sir Harry Smith Community College through the Fenland Teaching School's Alliance (Lionel Walden), you will ensure that you have your training placements within the local area. We are located close to Peterborough and there is a daily train service to Whittlesey. There are also bus services that run directly to Whittlesey with the school being a five-minute walk from the stop.
The College has a very dedicated and supportive team of staff who work closely together with one another. Each department is equipped with a mini staff room which is a quiet and secure base for planning, sharing ideas or simply having a cup of coffee. We also have a number of NQTs who have successfully completed the School Direct Programme, are now employed as teachers in the College, and are very willing to share their experiences with our trainees.
Should you choose to apply to us and be successful with your application, you will become one of our staff for the duration of your placement. We will equip you with a laptop and a programme for professional development. You will also have the opportunity to work alongside a form group and will become fully experienced in the day-to- day life of the school.
As part of the Aspire Multi Academy Trust, we also work very closely with two of our feeder primary schools which are in Whittlesey and form the primary phase of our trust. This means that should you train with us, you will be given additional opportunities to work alongside primary colleagues at New Road and Park Lane, thus gaining a breadth of understanding of teaching and learning across the phases.
The University of Bedfordshire will complement the work you do with us by delivering the Professional Studies course. We will provide you with advice from very experienced subject mentors and senior staff. Furthermore, you will be allocated a highly experienced personal mentor who will give you regular feedback regarding your progress and who will support you through the School Direct Programme route.
If you are interested in becoming a teacher and would simply just like the opportunity to find out if it is the career for you, we can organise a visit to the College. This experience will enable you to talk to teachers, observe lessons and decide whether you would like to join the teaching profession.
For further information, please contact:
Mrs Helen Norris (Assistant Principal and Professional Tutor)
Sir Harry Smith Community College
Email: hnorris@sirharrysmith.com
Alternatively, you can apply directly through UCAS using the guidance below at:
https://www.ucas.com/postgraduate/teacher-training/ucas-teacher-training-apply-and-track
or through the Government's new process at: https://www.gov.uk/apply-for-teacher-training
Our School Direct places are offered through The Fenland Teaching School Alliance and therefore your initial search within UCAS should be for Fenland Teaching School Alliance. Here you will find all of the teacher training courses offered by Sir Harry Smith Community College alongside other background information. Obviously, you should have a degree in a subject closely related to that of your application. Although not necessary at the point of application, candidates will need to have a GCSE in English and Mathematics.
Places for many courses fill up rapidly and we typically look to call applicants for interview promptly following the opening of applications.
We look forward to receiving your application.
Jack (History)
Jack is a History graduate who previously worked as a TA at Sir Harry Smith. He completed the School Direct programme with us in 2022.
"The School Direct programme was an ideal fit for me. The routine of having four days a week in school works really well – it offers much more practical, hands-on experience than many other teaching routes and allows trainees to get fully immersed in school life. The Fridays spent at the University of Bedfordshire have been useful in teaching me theory which I can then apply to my classroom practice, allowing me to continually reflect and adapt my teaching.
Sir Harry Smith is a friendly and supportive school where all the staff are welcoming and keen to help. It's been especially lovely to work alongside previous School Direct graduates who are now employed at the school, and who have offered me valuable advice and motivation from the perspective of someone who has experienced the course themselves. I would thoroughly recommend this route to anyone considering a career in teaching, regardless of your previous experience."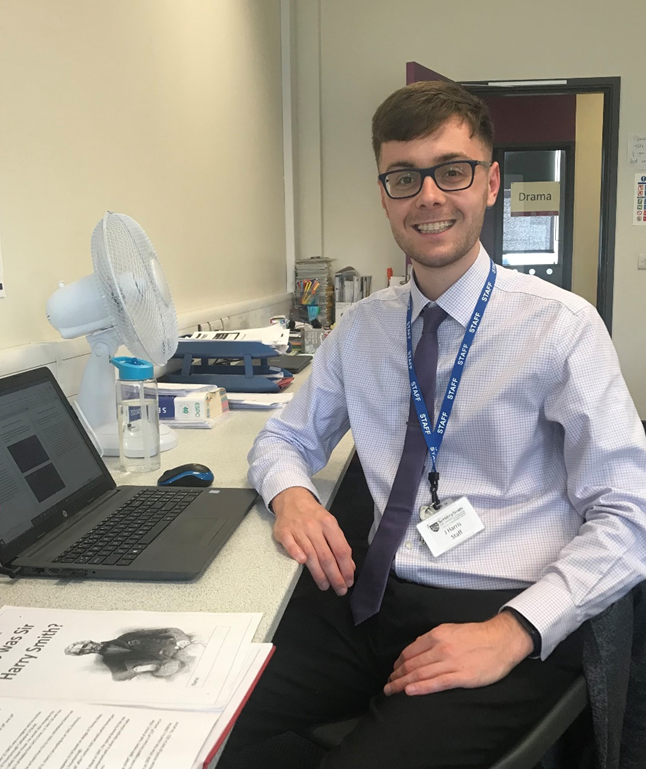 Tom (Religious Education)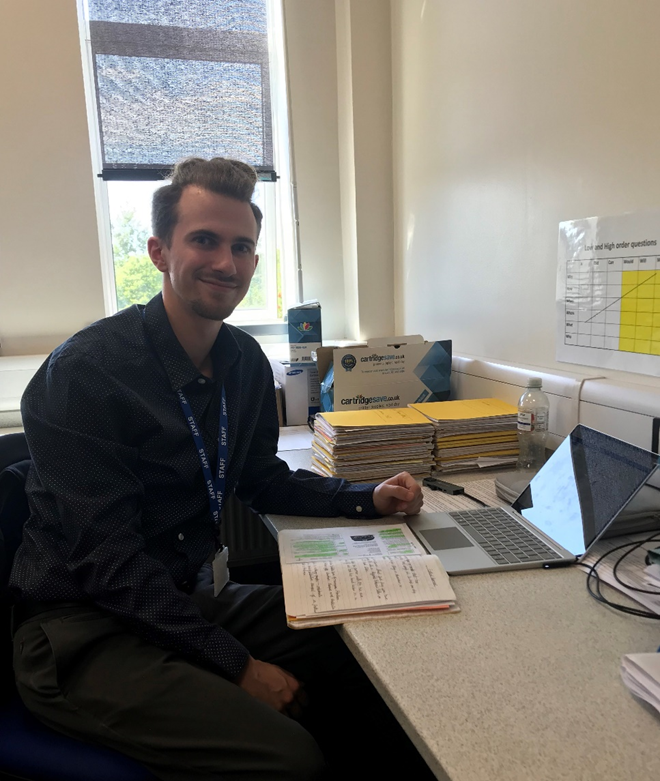 Tom is a Religion, Philosophy and Ethics graduate who completed the School Direct programme with us in 2022.
"I thoroughly enjoyed my time training at Sir Harry Smith during my School Direct training with the University of Bedfordshire. Having four days in placement with one day at university has been a tremendous way to develop my teaching practice, all the while surrounded by supportive and genuine colleagues across all departments. The guidance that each member of staff offered was invaluable and really helped to shape my practice. Even with my lack of prior experience, the school and the staff I have called colleagues here have been paramount in my journey to what will be an enjoyable career. I can hand on heart say I would recommend this route to anyone looking into this profession."
For applications from October 2022 to July 2023, for training to commence in September 2023, places are available in the following areas:
| | | | | |
| --- | --- | --- | --- | --- |
| Subject | Course Code | Programme Type | Course Aim | Awarding Institution |
| Chemistry | 2PT2 | School Direct (Non-salaried) | QTS plus academic award (PGCE) | University of Bedfordshire |
| Mathematics | 2PTS | School Direct (Non-salaried) | QTS plus academic award (PGCE) | University of Bedfordshire |
| History | 365J | School Direct (Non-salaried) | QTS plus academic award (PGCE) | University of Bedfordshire |
| Geography | 2XBS | School Direct (Non-salaried) | QTS plus academic award (PGCE) | University of Bedfordshire |
| Art and Design | 2XCC | School Direct (Non-salaried) | QTS plus academic award (PGCE) | University of Bedfordshire |
| Physical Education | 365N | School Direct (Non-salaried) | QTS plus academic award (PGCE) | University of Bedfordshire |
| Physics | 2PTX | School Direct Non-salaried) | QTS plus academic award (PGCE) | University of Bedfordshire |
| Religious Education | 2XBT | School Direct (Non-salaried) | QTS plus academic award (PGCE) | University of Bedfordshire |