Skills for Life
Aims
The college believes that the personal development of young people is essential to their health, safety and achievement as individuals within society. As such, Skills for Life lessons aim to provide students with the skills and knowledge that will help them to become well rounded individuals, well equipped for life in modern society and furnished with the skills that employers find most attractive.
Years 7 - 11
The key dimensions within Skills for Life lessons are: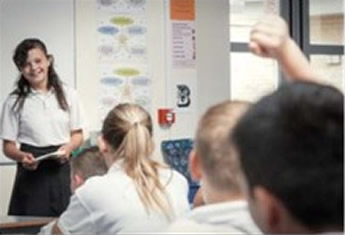 The knowledge, skills and attitudes to make healthy choices and manage risk.
The ability to form and manage supportive and stable relationships, including examining sexuality and sexual relationships.
The knowledge, skills and ability to manage their own personal finance, and to understand how business and enterprise operates.
the opportunity to examine a range of careers and to prepare for the world of work.
The capacity to develop awareness of themselves as learners and managers of change.
The capacity to recognise and celebrate diversity and difference.
The opportunity to participate actively in their schools and communities.
The development of an understanding of how society works and the rights and responsibilities of being a citizen.
The ability to anticipate the demands and challenges of adult life including work and leisure opportunities.
The opportunity to demonstrate creativity and enterprise.
Sixth Form
Skills for Life lessons in the Sixth Form are seen as an integral support to students' studies and future options along with looking at career and lifestyle choices more tailored towards older students . In Year 12 they will examine study skills more specific to Sixth Form and beyond, look at Post- 16 options with time built in to go through UCAS applications, examining apprenticeships and how to apply for jobs. They will also have the chance to examine a range of topics such as costs of living, driving and associated issues, current issues in society with older teens, finance, benefits and rights. In Year 13, students will have the opportunity for further tailored sessions to them as individuals with a special emphasis on Post 18 choices. Again, the overall aim is to produce well rounded individuals who will be successful members of society.
Additional Information
Our programme is based upon the Cambridgeshire and Peterborough Framework for Personal Development and includes Citizenship, Personal, Social and Health Education and the Cambridgeshire Framework for Careers Education and Guidance.
The Programmes of Study and Delivery
Our programmes of study are constructed from the Cambridgeshire Framework, using the five major themes:
Myself and my relationships.
Career development and choice.
Healthy and safer lifestyles.
Economic understanding and personal financial capability.
Citizenship.