Welcome
Our Focus is on Every Individual Student
Sir Harry Smith Sixth Form aims to provide every individual student with an excellent Sixth Form experience while fully supporting them to achieve their full potential. We focus on each students' future aspirations and ensure they leave the Sixth Form with the skills, experience and qualifications required for success. Academically, we provide both traditional and vocational courses and we regularly review our curriculum to ensure that the courses meet our students' needs. Teaching and learning is our upmost priority and we are constantly evaluating and developing our practice in the classroom.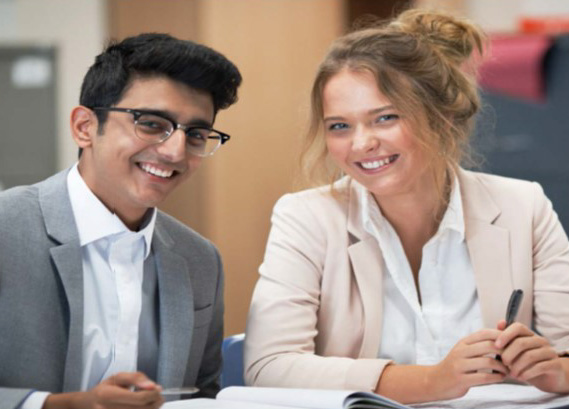 We listen to student feedback on lessons, keep up to date with advances in education and share good practice across the school. This ensures we achieve consistently high standards in all curriculum areas, thus providing students with the environment and opportunity to achieve their full potential.
Our students' opinions are important to us and we use student feedback to introduce positive changes, ensuring students are fully supported in their learning and have a positive Sixth Form experience. A strong partnership between teachers, students, governors and parents exists to ensure that students achieve the best possible grades. Students and parents are fully informed about academic progress and students will be given clear targets and guidelines to meet academic targets. These targets are challenging yet realistic and achievable through focused learning and hard work.
We have excellent facilities, including a dedicated Sixth Form centre that provides the students with extensive ICT provision and a very positive learning environment in which to use their study time productively. Each student is also given their own tablet computer at the beginning of year 12 to support them with their work both inside and outside the college.
We have a thorough induction and pastoral programme to prepare students for the transition into Sixth Form. Our dedicated Sixth Form tutor team aim to support and treat all our students as individuals, encouraging them to achieve success at the highest possible level and guiding them in their choice of university course or career.
Our expectations are high. We expect our students to be role models to our younger students 'and lead by example. Students are treated as young professionals and we expect them to behave, dress and work as such. We expect punctuality and attendance to be exemplary. Students are expected to spend at least five hours per subject per week outside of the classroom working and students are expected to use their time in school to study and make use of the available resources. We are looking for students to positively engage with their learning and to develop the skills to become independent learners.